Bernard P. Chang, MD, PHD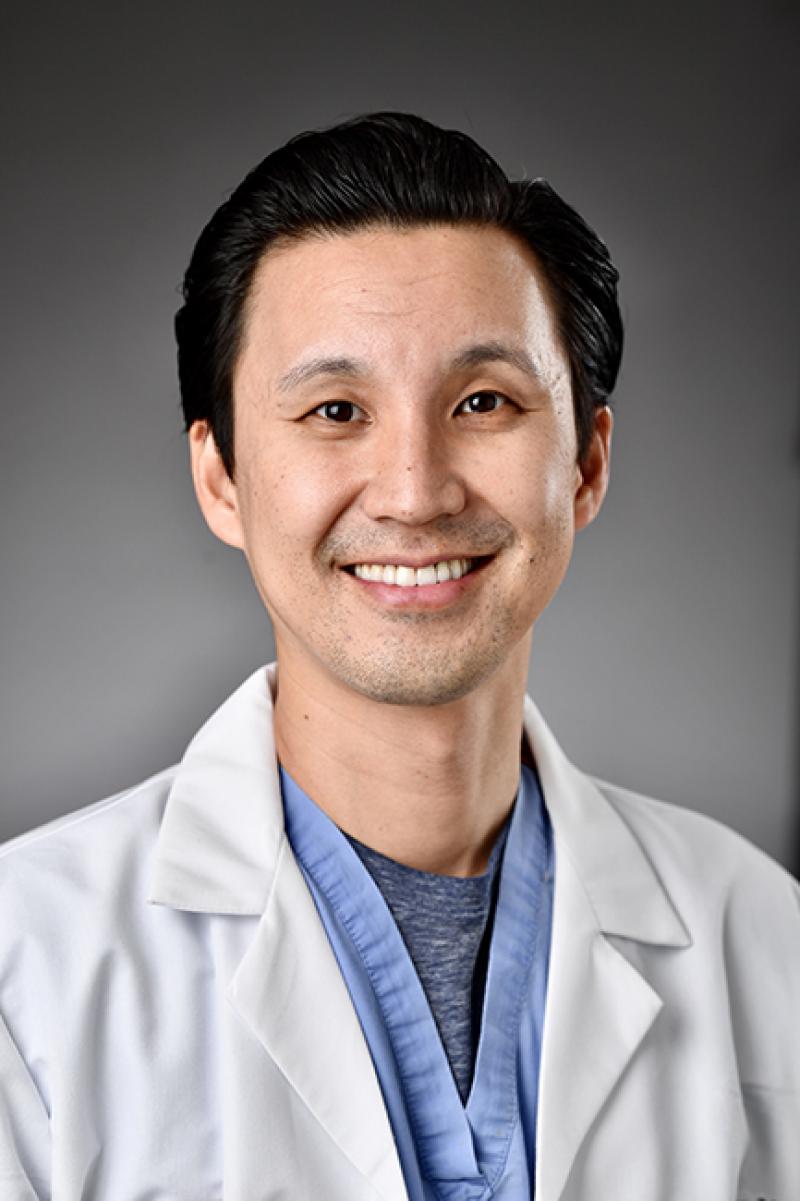 Overview
Dr. Bernard P. Chang is Vice Chair of Research and Associate Professor of Emergency Medicine at Columbia University, where he holds the Tushar Shah and Sarah Zion Endowed Associate Professorship in Emergency Medicine. Trained as a psychologist and an emergency physician, Dr. Chang's research has focused on the relationships between psychological and physical health in patients and providers.
Dr. Chang is currently the Principal Investigator of several ongoing funded studies by the NIH and other external sponsors, including one of the nation's largest longitudinal studies on clinician psychological and cardiovascular health. His research has been funded at the institutional, state, and federal level, and he was one of the earliest investigators in the specialty of Emergency Medicine to be awarded an independent investigator award (R01) by the National Institutes of Health (NIH). 
Dr. Chang has been recognized with numerous awards including the Lamport Prize, the American College of Emergency Physician-Established Investigator Award (New York), and the Young Investigator Award from the Society for Academic Emergency Medicine. He is an elected fellow to the Academy of Behavioral Medicine and New York Academy of Medicine and served as a board member of the Alumni Board of Governors at Stanford University Medical Center, and Board of Directors at the American College of Physicians (New York Chapter).
Dr. Chang received his PhD from Harvard in psychology, his MD from Stanford and completed his Emergency Medicine residency training at the Harvard Affiliated Emergency Medicine Residency at Massachusetts General Hospital and Brigham and Women's Hospital. Prior to his medical training, he served as a sailboat captain doing yacht deliveries internationally.

Academic Appointments
Tushar Shah and Sara Zion Associate Professor of Emergency Medicine
Hospital Affiliations
NewYork-Presbyterian / Columbia University Irving Medical Center
Languages
Chinese (Mandarin)
English
Farsi
French
Italian
Spanish
Schedule an Appointment
Virtual Urgent Care
Online urgent care visits with board-certified emergency medicine physicians.
Connect Patient Portal
For existing patients, login to make an appointment, view documentation or contact your care provider.
Insurance Accepted
Cigna
EPO
Great West (National)
HMO
POS
PPO
Emblem/GHI
Medicare Managed Care
PPO
Emblem/HIP
ConnectiCare
EPO
Essential Plan
HMO
Medicaid Managed Care
Medicare Managed Care
POS
PPO
Select Care (Exchange)
Vytra
Medicare
Railroad
Traditional Medicare
UnitedHealthcare
Compass (Exchange)
Empire Plan
HMO
Medicare Managed Care
POS
PPO
*Please contact the provider's office directly to verify that your particular insurance is accepted.
Credentials & Experience
Education & Training
Stanford University School of Medicine
Internship: Harvard Medical School/ Beth Israel Deaconess Medical Center
Internship: Brigham and Women's/Massachusetts General Hospital - Harvard Affiliated Emergency Medicine Residency
Residency: Harvard Medical School/ Beth Israel Deaconess Medical Center
Residency: Brigham and Women's/Massachusetts General Hospital - Harvard Affiliated Emergency Medicine Residency
Research
Research Interests
Acute care environmental factors
Neurological and Psychiatric Emergencies
Psychological and physiological effects of stress in patients and clinicians
Grants
1. 09/2021-09/2026           R01 HL157341                          National Institutes of Health      Role: Co-Principal Investigator (Co-PI: Shechter)  Psychological Distress in Healthcare Workers following the COVID-19 Pandemic and its Relationship to Long-term Cardiovascular Risk.  Total Direct Costs: $2,456,123 

2. 09/2020-08/2025           R01 HL 117832                         National Institutes of Health      Role: Co-Investigator      Interoceptive Bias and Secondary Cardiovascular Risk in Cardiac Patients.  Total Direct Costs: $2,621,200 

3. 01/2021-01/2022           Research Training Grant               SAEM/NIDA                          Role: Mentor (Mentee: Dr. Betty Chang)     Implementing telemedicine approaches to substance use disorder interventions Total Direct Costs: $12,000 

4. 07/2020-07/2021           COVID-19 Grant              Society for Academic Emergency Medicine Role: Principal Investigator     Psychological Stress amongst Frontline Workers during COVID-19 Total Direct Costs: $25,000 

5. 01/2020-01/2021           Research Training Grant               SAEM/NIDA                          Role: Mentor (Mentee: Dr. Dana Sacco)     Increasing Provider Awareness and Prescription of Buprenorphine for Opioid Use Disorder in a New York City Emergency Department Total Direct Costs: $12,000 

6. 12/2019-09/2024           R01 HL146911                          National Institutes of Health      Role: Co-Principal Investigator (Contact)     The Identification of Modifiable Emergency Department and Sleep Factors Contributing to Psychological and Cardiovascular Risk in Clinicians  Total Direct Costs: $2,253,062 

7. 12/2019-12/2021           Small Business Innovation Research    National Institutes of Health        Role: Site Principal Investigator     Data Visualization for Clinicians: Cognitive and Attentional Approaches with DAViD2 Total Direct Costs: $54,000 (Phase 1)   

8. 10/2019-10/2021           NIH Heal Initiative                   National Institute on Drug Abuse   Role: Site Principal Investigator     Emergency Department Initiated Buprenorphine and Validation Network Trial  Total Direct Costs: $1,542,234 

9. 07/2018-07/2023           R01 HL141811                          National Institutes of Health      Role: Principal Investigator     Testing a Rapid Outpatient Management Strategy on PTSD, Cardiovascular and Rehospitalization Risk in TIA and Minor Stroke Survivors Evaluated in the Emergency Department Total Direct Costs: $2,430,170

Selected Publications
1. Chang BP. Can Hospitalization be Hazardous to your Health? A Nosocomial Based Stress Model for Hospitalization. General Hospital Psychiatry. (2019). 60; 83-89.  PMID 31376645 DOI: 10.1016/j.genhosppsych.2019.07.014 

2. Chang BP, Rostanski S, Willey J, Miller E, Shapiro S, Mehendale R, Kummer B, Navi B, Elkind MS. Safety and Feasibility of a Rapid Outpatient Management Strategy for Transient Ischemic Attack and Minor Stroke: The Rapid Access Vascular Evaluation-Neurology (RAVEN) Approach. Annals of Emergency Medicine. (2019). 74(4); 562-571. PMID 29321107 DOI: 10.1016/j.jemermed.2017.12.015  

3. Chang, B. P., Franklin, J. C., Ribeiro, J. D., Fox, K. R., Bentley, K. H., Kleiman, E. M., & Nock, M. K. (2016). Biological risk factors for suicidal behaviors: a meta-analysis. Translational psychiatry, 6(9), e887-e887

4. Firew, T., Sano, E. D., Lee, J. W., Flores, S., Lang, K., Salman, K., ... & Chang, B. P. (2020). Protecting the front line: a cross-sectional survey analysis of the occupational factors contributing to healthcare workers' infection and psychological distress during the COVID-19 pandemic in the USA. BMJ open, 10(10), e042752 PMID 33087382 DOI: 10.1136/bmjopen-2020-042752 

5. Chang, B.P., Sumner, J.A., Haerizadeh, M., Carter, E., Edmondson, D. (2016). Perceived clinician-patient communication in the emergency department and subsequent post-traumatic stress symptoms in patients evaluated for acute coronary syndrome. Emergency Medicine Journal, 33, 626-31. PMID 27126406 DOI: 10.1136/Emermed-2015-205473