Patient Care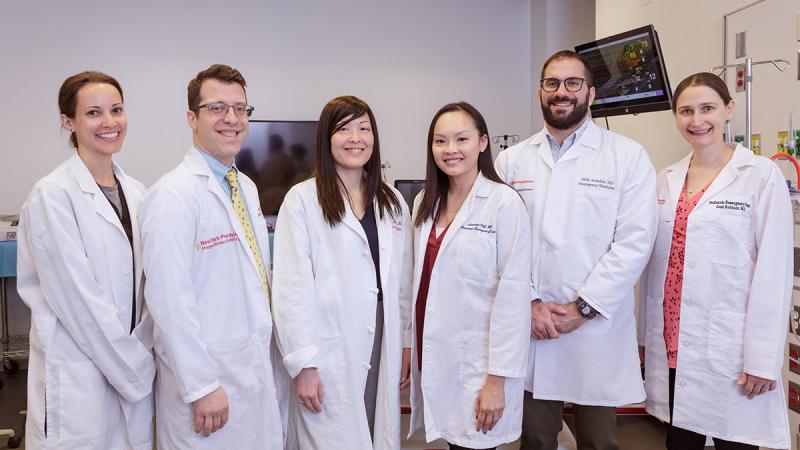 The Department of Emergency Medicine at Columbia University Vagelos College of Physicians and Surgeons provides for the acute health care needs of New Yorkers and surrounding areas. We strive to continuously improve the quality of our clinical care by incorporating evidence-based practices and innovating our care models.
Clinical Initiatives
Emergency Preparedness
Columbia Emergency Medicine, with four emergency departments in the New York metropolitan area, contributes to readiness in the event of natural or man-made disasters. The Department aims to contribute to institutional readiness, as well as regional, national and international preparedness.
Telehealth
With the emergence of telehealth as a key strategy for delivering value-based care, Columbia Emergency Medicines aims to be a leader in the development of innovative acute care models as well as the investigation of the clinical and workforce impact of those models. Currently, in the Department, telehealth care models are being used to support direct patient care in the EDs, specialty consultation, and remote urgent care.
Social Emergency Medicine and Population Health
Social determinants of health are important drivers of emergency department utilization across the United States. Columbia Emergency Medicine is a leader in care coordination for those who are the most vulnerable. Current initiatives include targeted efforts for the opioid epidemic (including naloxone distribution, buprenorphine induction and a peer counselor program in coordination with New York City's Department of Health and Mental Hygiene), and community health navigators embedded in our EDs to ensure timely follow-up.
Clinical Informatics
The transition to nearly ubiquitous EHRs has enabled communication between and within care teams. The challenges and opportunities of EHRs deserve focused study, and the Department of Emergency Medicine aims to innovate at the interface of clinical informatics and emergency medicine, as well as to research potentially practice-changing initiatives.
Facilities
NewYork-Presbyterian/Columbia University Irving Medical Center Emergency Department
As the front door of a world-class quaternary care referral center, the CUIMC ED cares for all patients who present with conditions ranging from the routine to the most life-threatening at any time of the day, 365 days a year. In collaboration with our cardiovascular and neurologic specialists, the CUIMC ED functions as a STEMI-receiving center with FDNY and a Joint Commission-certified comprehensive stroke center. The CUIMC ED serves as a core teaching site for the NewYork-Presbyterian Emergency Medicine training program as well as a teaching site for the Columbia University Vagelos College of Physicians and Surgeons.
NewYork-Presbyterian/Allen Hospital Emergency Department
Allen Hospital's Emergency Department serves the needs of Inwood and the surrounding neighborhoods of upper Manhattan and the south Bronx. Allen ED serves over 50,000 patients each year, includes a dedicated fast track, and is supported by telemedicine remote consultation for neurologic and pediatric emergencies. Allen Hospital is home of the Och Spine Hospital and our ED works collaboratively with colleagues in spine surgery to ensure safe, efficient care for both pre- and post-operative patients.
NewYork-Presbyterian/Lawrence Hospital Emergency Department
NYP Lawrence Hospital's ED is a STEMI-receiving center and primary stroke center serving the needs of Bronxville and lower Westchester. With over 40,000 patients annually, the team at NYP Lawrence ED, which was incorporated within our department in 2019, is aiming to be the hospital of choice for the people of lower Westchester.
Alexandra & Steven Cohen Pediatric Emergency Department at NewYork-Presbyterian/Morgan Stanley Children's Hospital
The Cohen Pediatric ED functions as the front door of New York's most comprehensive children's hospital. The Pediatric ED serves the needs of children and families throughout the metropolitan area, including those with the most complex, interdisciplinary care needs. The Children's Hospital is an American College of Surgeons-accredited Level 1 pediatric trauma center. The Pediatric ED serves as clinical home to the pediatric emergency medicine fellowship program, is a core teaching site for the NewYork-Presbyterian Emergency Medicine training program, as well as a teaching site for the Columbia University Vagelos College of Physicians and Surgeons.